unit 1818, may 8, 2000
---
Some detail shots of unit 1818 at Clear Site AFB on may 9, 2000. All photo's (and comments below) by Patrick Durand of the MATI.
Pat was amazed at the condition of the locomotive, as you will be on study of the photos. No rust in sight! Remember, this loco was built in May of 1952 and has been in and out of service many times. The bright yellow and blue ALASKA paint job was actually camouflage applied when she powered the Alaska Command ALCOP Mobile Command Post train in 1980s. The MRS1 was painted to pass for any other ARR locomotive. The locomotive is finely detailed in well applied paint finishes, that would make any MUSEUM paint crew envious. This locomotive has been in regular service at Clear! If you doubt, look at the cab and control stand photos.
The man primarily responsible for the paint job maintenance is Mr. Brad Shepherd, now retired from the Coal Crew Clear as the group is known. Larry introduced me to Patrick Geagan, Tim Dugger and Al Maddox all members of the crew and cross trained as locomotive engineers. The crew at Clear is pleased that all their efforts at maintaining these locomotives, the tools of their labor, will be enjoyed by visitors to the Museum of Alaska Transportation and Industry, in Wasilla, Alaska. Thanks to friends who made this possible by their contributions to the MRS1 #1718/1818 Preservation Fund.
---
And here are 2 photo's of USAF GE 80 tonner #1604 at Clear Site. Why all this interest in an 80 tonner from May of 1952, you wonder? Well, for less than the cost of a coat of paint she has been added to the deal and is now part of the Museum of Alaska Transportation and Industry roster as well.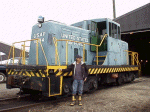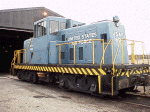 ---