Alco MRS-1 2085 and 2090
---
Two MRS-1 ALCO's (B2085 and B2090) belong to the Eastern Shore Railroad, in Virginia and are stored at the Little Creek car float terminal in Norfolk. I don't know if they are in use or if they even work but they have been relettered. The ESHR connects Norfolk (via car float across the Chesapeaake Bay to the Eastern Shore of Virginia) with Conrail at Pocomoke City, Maryland. This used to be the DelMArVa Division of the PRR.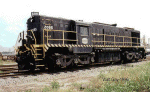 Unit 2085: Picture by Walt Gay Photo (1996, Little Creek, VA).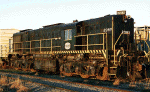 Unit 2090: Picture by Chris Zeitvogel (march 12, 1998, Little Creek, VA).