Uruguayan history
---
Unit 8033 went to the Uruguayan Railways (AFE) in 1977, renumbered as 601, along with another RSD-1, USNavy 6500532 (renumbered as 602), that served as a spare parts source for unit 601.

Unit 601 was never used as a main-line locomotive by the AFE, but always served as shunting locomotive in the main yards. About 1981 the unit was withdrawn and scapped in 1988.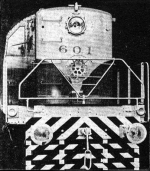 Unit 601 at Peņarol Roundhouse. Photo: AFE.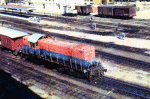 Unit 601 near the end of his service in 1981. Photo: Victor De Angeli.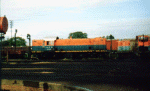 Unit 601 at Remesa Bella Vista in 1980. Photo: Gianetto Williams.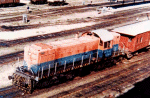 Unit 601 at the central Station sidding yard (Montevideo)in 1980. Photo: L. San Martin.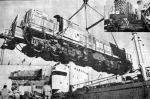 Main Photo: Unit 602. Upper right inset: ALCo MRS-1 1612. Montevideo docks, march 1977. Photo: AFE.
See also: http://alcoworld.railfan.net/uruguay.htm
This information was kindly provided by Tabare Bordach of the CEFU and Marcelo Benoit.