The ALCO MRS-1's
---
USArmy & USNavy history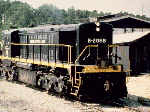 unit B2088 in it's original livery. photographer, date and location unknown. Reduced image from the Digital Tours 'The world of trains' CD-ROM.

The Alco MRS-1's got a number from 2041 to 2123. Fifty units were equipped with a steam generator in the short hood. Their road numbers were prefixed with a 'B' (for boiler). They also had an alternate number 65-00xxx - 65-00xxx (given after transfer to the Navy). Navy numbering was straightforward: each new acquired unit got the next number from the list. The Alco MRS-1's had numbers ranging (at least) from 65-00543 up to 65-00616. (the 5 Navy EMD MRS-1's were numbered 65-00570 - 65-00574).

The five last Alco units in official service were all stationed at the Concord, California Naval Base. These were numbers 65-00612, 65-00613, 65-00614, 65-00616 and 65-00617. All MRS-1's are now gone from Concord NWS.

After the Alco MRS-1's were built, most were stored. A few, were lucky and got assigned to bases and put to work.
Alaska history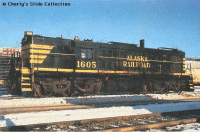 Like the EMD MRS-1 units, some of the Alco units got a second job at the Alaska Railroad. In total 13 Alco units were transfered to the Alaska RR. Six units were aquired by the ARR in november 1974 (units B2049, B2050, B2053, B2054, B2055 and B2059) renumbered to 1601 - 1606.
In april 1975, a second delivery was done of 7 units (B2056, B2061, B2067, B2073, B2075, B2077 and B2100). The first 6 were renumbered to 1607 - 1612, while unit #2100 (ex USNavy 65-00586) only served for spare parts.

Overview Alaska Units (click unit nr. to see photo on John Combs ARR site)
US No.
ARR No.
Aquire date
Retired data
notes
B2049
1601
11/74
11/83
 
B2050
1602
11/74
11/83
 
B2053
1603
11/74
1984
 
B2054
1604
11/74
1984
 
B2055
1605
11/74
1984
 
B2059
1606
11/74
1984
 
B2056
(1607)
04/75
06/76
retired before renumbering to ARR number
B2061
1608
04/75
11/83
 
B2067
1609
04/75
11/83
 
B2073
1610
04/75
1984
 
B2075
1611
04/75
11/83
 
B2077
1612
04/75
11/83
 
2100
parts
04/75
-----
cannibalized for parts for other Alco's
Current whereabouts
None of the ALCO MRS-1 units is still in official military duty. A lot were scraped, but quite a few were sold, and still serve on civilian railroads or museums: